Laboratory Equipment
Laboratory Equipment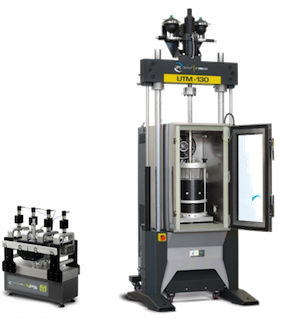 Universal Test Machine (UTM-130)
Main Features:
Rigid two column load frame
Precision engineered for high stiffness and alignment
Double acting high precision actuator
High performance servo valve allows sinusoidal loading frequencies up to 70 Hz
Motorized crosshead positioning
Hydraulic crosshead clamping
Fully customizable to suit a large range of testing applications
Independent environmental chamber eliminating the transfer to mechanical vibrations to testing machine
Extra-large version UTM-130XL available, designed to accommodate the Extra Large Four Point Bend Jig
Supplied complete with high quality pre-filtered oil for longer life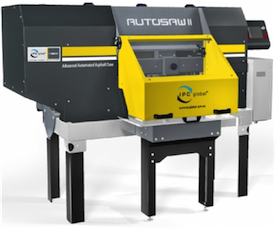 Advanced Automated Asphalt Saw, AUTOSAW II
Main Features:
Touch screen CPU control allows for easy set-up including carriage speed and retraction sequence
Intelligent system with adjustable limit switches allow for repetitive cuts with minimal carriage over travel saving time
Protection cabinet with several automatic locking access doors to ensure unparalleled safety and clean operation in laboratory environments.
Slab and prism of any shape and dimensions can be sawn without additional accessories (see table for maximum dimensions)
Pneumatic clamping of prisms and cores
Compressed air gun for cleaning specimens and sawing system
Easy spacer system allows precise preparation of beams or cores
Automatic advance and retraction of saw blade to home position
Adjustable cutting speed for optimum specimen finish and throughput
Numerous interlocks to ensure operator safety
Motor features dynamic braking to immediately stop while switched off
Motor mounted on twin chrome-plated steel rails with sealed bearings
Stainless steel water collection pan
Unique clamping mechanism for cylindrical specimens minimizes specimen damage. Use of a sacrificial PVC tube produces a superior finish and minimizes edge chipping
Jig for round cores, 100 or 150 mm diameter, with both automatic or manual feeding of the sample, length up to 200 mm, and jig for 200 mm dia. cores with manual feeding
Quick and easy specimen set-up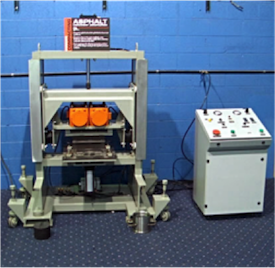 Asphalt Vibratory Compactor
The Asphalt Vibratory Compactor (AVC) is designed to form rectangular and cylindrical test specimens used for evaluating the susceptibility of permanent deformation (rutting), fatigue cracking, and moisture damage of asphalt mixes. The AVC compacts specimens at the same amplitude, same frequency, and same relative weight that a contractor experiences with a vibratory compactor on the roadway.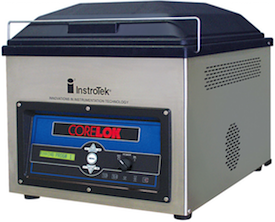 CORELOK
An innovative, non-nuclear method of determining SuperPave, Stone Matrix (SMA), and coarse mix asphalt air voids. CoreLok performs 5 standard lab tests:
Bulk Specific Gravity
Maximum Specific Gravity
Aggregate Specific Gravity
Porosity
% Asphalt Content
The CoreLok® is a system for sealing asphalt samples so that the sample densities may be measured by water displacement methods. Samples are automatically sealed in specially designed puncture resistant polymer bags. Densities measured with the Corelok® system are highly reproducible and accurate. The results are not dependent on material type or sample shape. The GravitySuite™ PC software package calculates and manages your data for ease of operation. One Machine for All your Gravity Measurements of Asphalt and Aggregate. ASTM D6752, ASTM D6857, ASTM D7063. A fundamental density measurement. It does not require empirical calibrations. An accurate method for Bulk Specific Gravity measurement.