Department of Defense awards $5.2 million to CREATES for cold region research
Department of Defense awards $5.2 million to CREATES for cold region research
Department of Defense awards $5.2 million to CREATES for cold region research
OCTOBER 27, 2021
To help the United States protect its national security interests in the Arctic region, the Army Corps of Engineers-Department of Defense (DoD) has awarded a $5.2 million grant to Rowan University's Center for Research and Education in Advanced Transportation Engineering Systems (CREATES), the center's single largest award to date.
Working in partnership with two labs from the U.S. Army Corps of Engineers' Engineering Research and Development Center (ERDC), the Cold Regions Research and Engineering Laboratory (CRREL) and the Geotechnical and Structural Laboratory (GSL), CREATES is developing innovative construction materials for cold regions.
Since CREATES opened in 2016, its researchers have earned nearly $17 million in grant funding and equipment from the Department of Defense encompassing 23 projects. The newest two-year grant funds the continued research and development of new technologies and paving materials for bridges, roads and airstrips for a cold-weather region undergoing rapid climate change.
Dr. Yusuf Mehta, a civil and environmental engineering professor in the Henry M. Rowan College of Engineering and the director of CREATES, leads the ongoing research at the center, along with its associate director, Dr. Ayman Ali.
"New technologies and materials will facilitate a quick and safe deployment of troops and the establishment of military bases in the Arctic region," Mehta said. "Eventually, these projects will serve as a major step toward securing our northern borders and securing Arctic infrastructure."
The grant-funded work also provides hands-on research experience for post-doctoral associates and graduate and undergraduate students. The projects include:
Demonstrating self-deicing pavement systems under real-world conditions
Improving asphalt binders with plastics
Evaluating fiber-reinforced, hot-mix asphalt in the lab and at full scale
Developing a "self-healing" asphalt mixture using asphalt binders modified by nanoparticles
Studying the use of warm-mix asphalt technology in cold regions
Previous research has led to the development of innovative construction materials, such as geogrid-reinforced flexible pavements and self-deicing materials.
Panels of experts from the Army Corps of Engineers will review each project throughout all its phases, as well as each project's recommendations.
A critical part of the testing and evaluation relies on the center's Heavy Vehicle Simulator, the only such device at a college or university in the northeastern United States. Housed at Rowan University's South Jersey Technology Park through a cooperative agreement with CRREL, the $3 million machine can simulate decades of vehicular traffic on highways and airplane runways in less than half a year while controlling temperature and other environmental conditions.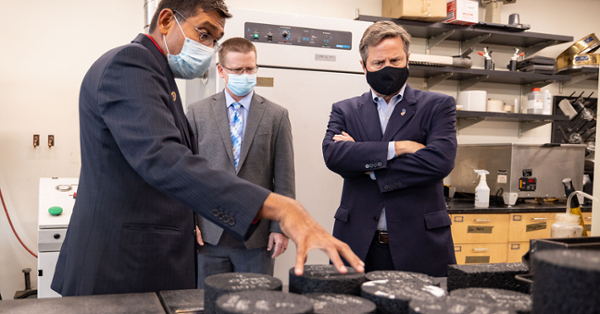 "Rowan University is making its mark as a hub of innovation and research," said U.S. Congressman Donald Norcross, who recently visited CREATES' research facilities. "The development of new materials and methods for cold-weather construction is essential for our national security and will be broadly applicable as we continue our work to address climate change. I am proud that the next generation of engineers are playing a key role in these vital research programs right here in New Jersey."
"We are very thankful for this partnership with Rowan University," said Wade Lein and Danielle Kennedy, research civil engineers at CRREL. "We're on the precipice of answering concerns about how our infrastructure
performs in cold climates. The research we're doing is solving the needs of the future and that's where we need to be as scientists and engineers in this space. We look forward to the next five years and beyond."
"Just five years ago, Rowan University opened this facility with the goal of becoming one of the elite transportation and research institutions in America," said Rowan University Provost Tony Lowman. "Time and again, Dr. Yusuf Mehta and his team of researchers have demonstrated the real-world value of scientific inquiry. We're exceedingly proud of their accomplishments and we deeply appreciate the continued support from the Department of Defense and our longtime research partners at the Army Corps of Engineers."